/sites/default/files/2019-10/1532699856_konkurs.jpg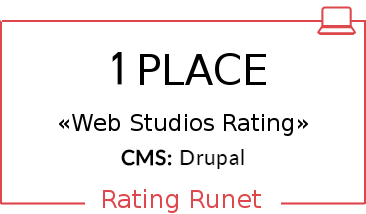 According to the Runet Rating, we are the best Russian web design company building Drupal-powered websites.
We took the first place in the Runet rating among companies that develop Drupal websites. The last time we were awarded this title was in 2018 and in 2021 we repeated our success.
In comparison with previous years, the selection was tightened — out of more than a thousand applications, only 749 agencies passed. It was necessary to collect an impressive package of evidence: documents, turnovers, 1C uploads, passwords and appearances. We didn't pass the passwords, but we did everything necessary and here we are. The first by Drupal.
Our team has been developing and maintaining Drupal sites since 2005. We have hundreds of projects, tens of thousands of hours of development and kilometers of code behind us. We are involved in the development of the Drupal platform itself, starting with version 4.6, and we do not get tired of confessing our love to it.
For us, Drupal means high standards of development, constant training and just a part of life.
This victory is another reason for us to be proud of the team and the efforts of each of us.
Drupal is us.