/sites/default/files/2019-10/1532699856_konkurs.jpg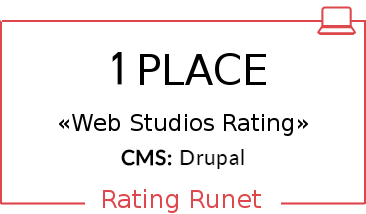 According to the Runet Rating, we are the best Russian web design company building Drupal-powered websites.
Our team has been accumulating experience and excelling in Drupal websites development and support since 2005. Through the years, we created and were supporting hundreds of sites using this wonderful platform. We have been actively contributing to Drupal since its 4.6 version.
Drupal is an advanced web development platform for business, government, education establishments, NGOs etc. However, there is more to Drupal than that: it is also a huge community of professionals around the world. Choosing Drupal, you can be sure that your website and its accompanying resources will be powered by the most advanced web technologies developed by the best teams of professionals. Drupal is the system preferred by many Fortune 500 companies. Selecting us to build and support your Drupal-powered ecosystem, you put your trust in a well-oiled team of experienced Drupal specialists and like-minded people who can solve the most complex problems in their relevant fields. Many of our clients are thousands of kilometers away from us and we have never met in person, but the streamlined support processes we have implemented give them peace of mind, they are sure the most important aspects of their business are well taken care of.