/sites/default/files/2022-07/shutterstock_1818087794.jpg
What is PWA?
PWA or Progressive Web Applications is a technology that allows you to turn a website into a mobile application.
PWA provides a familiar user experience: an icon appears on the desktop like an application, the internal interface looks like a full-fledged application, tabs open and load quickly. PWA can work offline and allows push notifications to be sent.
PWAs are ideal for launching a minimally viable product, testing demand or other hypotheses, and are far less expensive to develop and maintain than a full application.
PWA can be downloaded either directly from the website or hosted on Google Play.
What tasks does PWA solve?
Many users have become accustomed to doing most of their usual activities in apps: reading the news, shopping, ordering food, and so on. Browser-based websites are most often less competitive in this regard. And while in the past the main objection to such an arrangement was the large size of the apps, current generations of smartphones have sufficient storage space. And in the case of PWA this argument does not work any more since PWA weighs a few MB as opposed to the usual few hundred MB.
PWA will help:
test a demand or other hypothesis;
increase the time spent on the website;
Increase brand awareness with a website icon on your phone's home screen;
increase conversion rates with push notifications with discounts/promotions.
PWA is great for sites that people visit frequently:
news portals,
blogs,
delivery sites,
any websites with personal accounts.
Pros and cons of PWAs
We've already listed a few pros, but we'll repeat them in the full list just in case:
saves on development and support costs;
doesn't require much space on your smartphone - only a few MB;
downloaded in one click from the website;
does not break the user experience: the interface is clear and familiar, like the app;
Loads quickly, works in offline mode thanks to caching;
increases the time spent on the site and the likelihood of conversions;
allows you to save on repeat customer referrals without the cost of retargeting and remarketing.
A banner or pop-up window can be placed directly on the website asking you to add your application to the home screen. In this way the user can see you more often and it will be easier for them to place an order/ make a purchase/ find out the news, etc.
In this case, the important thing is not to scare the user away. An intrusive invitation to install the site on the phone may alienate the customer: they may see it as a security threat.
It is better to explain the benefits of installing a PWA and demonstrate the benefits. This will make users more willing to download unfamiliar software.
PWAs can also help search engine promotion. For example, a backlink to a website on Google Play can attract additional visitors. Also, good behavioural indicators seen by searchers thanks to PWAs have an impact on a website's ranking. Are people using the site and taking targeted actions? That means they like it and the site can be promoted in search engines. Normally visitors would just leave because of slow speed, poor optimization or other factors, but PWA is all about user comfort - like an app.
PWA has objectively fewer disadvantages:
some devices may not support PWA due to OS version;
Offline access is not unlimited - it is not possible to cache the whole site, but it is possible to make a special page asking you to connect to the internet.
A case study from our practice
Despite the beauty of the technology, few people still know about PWA. And that's a shame, because we can easily turn any Drupal site into a progressive application.
For example, we turned our own website into a PWA as an experiment.
And for our client, the online shop PNEVMOTEH, we made as many as three applications - in Russian, Kazakh and Belarusian. The client works in different countries, and as a hypothesis he wanted to check how much demand there would be for installing applications in his niche, so as not to spend a huge amount of money on development. No explosive installation figures were expected, as no advertising or other promotion costs were included in the project.
As a result, PNEVMOTEH has been installed only 73 times in the entire existence of PWA. Of these, 14 were from Belarus, 59 from Russia, but there were no installations from Kazakhstan at all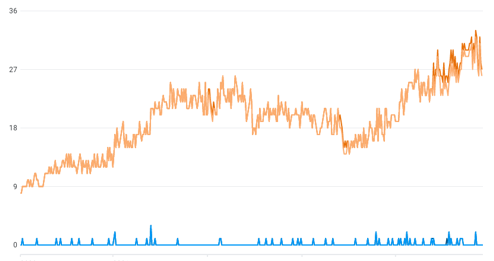 PWA installation statistics for the PNEVMOTEH app on Google Play
What do I need in order to commission a PWA?
You will need: a Drupal-based website for your business and a certain budget. The size of the latter depends on several factors:
Whether PWAs will be hosted by app shops. If you want PWA to be installable not only from your website but also from Google Play, extra work will need to be done to write some code for Android.
What is the status of the mobile version of the site. How well is your website adapted for mobile devices? How quickly does it load and is nothing there going off-screen? This factor not only affects the cost but also the speed.
How much functionality is planned. For example, push notifications about discounts and promotions will need to be added to the system. As part of the support, this will take a certain amount of developer time.
Of course, these are just the basics. And even taking into account any other circumstances, it's still more cost-effective than commissioning a full-blown mobile app development. Especially if this is the first time you have done it.
Cost of development
We emphasised several times that PWAs are much cheaper to develop. The progressive application for PNEVMOTEH took us 15 hours. This included preparing the website + writing Android code to post on Google Play. Important detail: It took so little time because the website was already optimized and well adapted for mobile devices.
Even at the rate of our most experienced developer, those hours won't cost you a million or more. And when it comes to writing an application from scratch, that's the kind of sums you're usually talking about.
If you are interested in PWA technology and want your own application at no extra cost, please contact us. Our managers will answer any questions you may have.