/sites/default/files/2022-03/search-engine-optimization-4111000_1920.jpg
The owner of a website for the sale and rental of equipment for construction and repair turned to us with a complaint that his site is poorly promoted in search engines and asked us to determine the reasons why this happens. Having studied the site and SEO reports, we agreed to help him by taking the project for maintenance and support.
Immediately after signing the contract, the site began to lose position. Suspecting something wrong, we began to carefully study the content and discovered that the previous promotion specialists had made a gross mistake - due to low-quality, "overoptimized" texts placed on the site, it had been affected by the "Baden-Baden" filter of Yandex, which lowers page positions in search, if texts "flooded" with subject queries are detected. Urgent action had to be taken.
We reassembled the semantic kernel, cleared it of non-targeted queries and expanded it with relevant target keywords. Continuing the deep optimization of the site, we added blocks with important information such as price lists, portfolios, and reviews to the pages. We drastically rewrote almost all text content, getting rid of "overoptimized" texts.
Completely redesigned the content, optimized its structure, adding semantic markup and turbo-pages, corrected technical errors and worked well with Yandex services.
As a result of the work performed we got a steady increase in the positions of the target pages in the search engine results. We managed to get rid of the "Baden-Baden" filter, under which the site had fallen due to an error made by previous SEO-"optimizers. By April, site visibility in search engines increased from 5% to 60%, and "search" traffic more than doubled.
As a result, the site moved well into the top 10, especially in Yandex. Some groups of queries are now completely in the top. Attendance from search has increased by 100%.
Website visibility in search engines increased from 5% to 60%.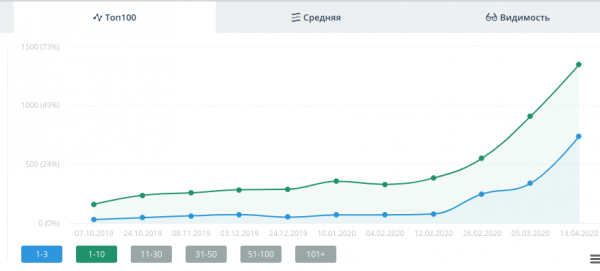 As of April 13, 2020. 65% of the phrases are in the top 10 of Yandex and 41% in Google.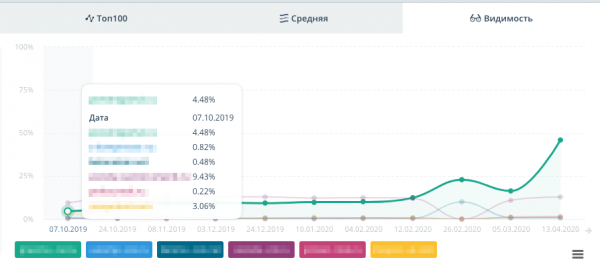 Attendance from search engines has increased by 2 times.

Comparison of traffic to the site from the search with other sites in the subject (construction and repair) according to Yandex.Webmaster.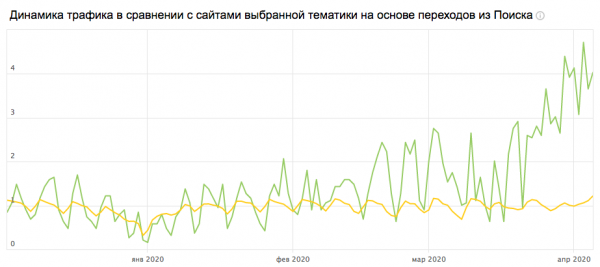 Further work is aimed at increasing conversions on the site.
An important role in SEO is also played by increasing the speed of the web server on which the site is based. You can read about the impact of page load speed on user traffic and search engine promotion here.